Neon Paddle Electric Pedal Boat (Fits up to 2 adults & 2 small children 50 lbs and under)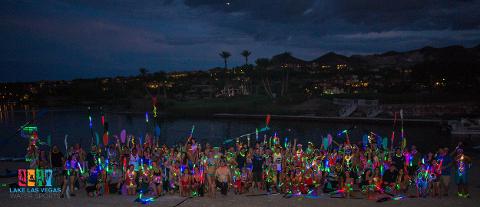 Duration : 2 Hours (approx.)
Location: Henderson, NV
Product code : PY61G0
Enjoy the outdoors in a new way at Reflection Bay on Lake Las Vegas! Float in a kayak, ride in an electric pedal boat or enjoy a stand up Paddleboard on the water while the sun sets the sky on fire, the full moon rises, and the stars twinkle. Our night begins with a pre game party at Reflection Bay beach in which we supply you with unlimited LED glow supplies to light up the lake as we paddle to our destination. At the beach we have a tiki bar with food and drinks along with numerous different beach games like bag toss, horse shoe, footballs, ect. Be sure to come early to enjoy the tiki torch lit beach along with our bon fires. Our paddle will begin when the sky is dark. Once we hit the water it will take approximately 30-45 minutes to reach our destination in which we will have a floating dock with our own DJ and lights to light up the sky! We will hang out at this destination for 45 minutes and then return to Reflection Bay. Once the paddle has finished we don't stop the party there, we then take the party to Mimi and Coco's Bistro in the village which is just a 2 minute drive from the beach. Pizza will be available for free, first come first serve, and discounted drinks available for purchase. Once you arrive we will have music, food, and great times ready for you! The after party starts right after the paddle!

If you do not have a reservation the night of the paddle and there are spots available you may purchase a spot at the beach for the following price:
Paddleboard/Kayak: $75

Tandem Kayak: $100
Electric Pedal Boat: $125
***MUST MEET AT REFLECTION BAY GOLF COURSE for this event***
Address: 75 Montelago Blvd, Henderson, NV 89011
We try to always have the events on full moon nights when we can, the only guaranteed full moon nights are:
July 9, August 7, September 6, October 5. If you book a date outside of these please know we do not guarantee any full moon but the event will run as normal with everything as planned to be offered.
*Cancellation and rescheduling policy: We have a 48 hour cancellation policy which means you can cancel your booking and request a full refund anytime outside of 48 hours. You are allowed to change your reservation if you give us a minimum 24 hour notice, but a refund will not be issued inside this time frame if you need to cancel. Inside of 24 hours there is a strict no cancellation and no rescheduling policy, NO EXCEPTIONS!!! (Traffic, accident, passing of family/friend, sickness, ect) If you have a deposit on file with us and you are marked as a no show or you show up late your card on file will still be charged in full.
Late Policy: If you are late to your appointment we will remove the necessary amount of time from your appointment to match the time your appointment should have finished at.
**All prices and offerings are subject to change without notice. After party food and location is also subject to change without notice.**