Jaws on the water tube ticket for August 18, 2017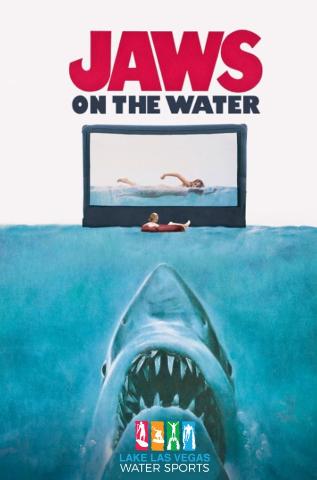 Duration: 150 Minutes (approx.)
Location: Henderson, NV
Product code: PEK0M5
Book Now
Imagine relaxing on an inner tube with a cold drink in hand on a perfect Vegas summer night, your feet languidly dangling in the calm Lake Las Vegas water. Now imagine you're also watching the greatest thriller ever made, projected across the water while unknown terrors threaten from the watery depths...

The check in process will begin at 5:00 PM and the movie will start at 8:30 PM. Please arrive early due to the large number of people expected and get checked in and hang out on the beach!

If you rent a tube, all kids 12 AND UNDER MUST WEAR LIFE JACKETS. IF you do not have a jacket for them you can use one of ours!

We will have single and double tubes available for everybody. First come first serve!! The tubes will be provided as rentals for everybody that purchases this ticket.
There will be an after party at Reflection Bay Golf course after the movie!

Need a discounted hotel at Lake Las Vegas?

Book at the Westin with our link and SAVE 20%

www.westinlakelasvegas.com/llvwatersports

*Cancellation and rescheduling policy: We have a 48 hour cancellation policy which means you can cancel your booking and request a full refund anytime outside of 48 hours. You are allowed to change your reservation if you give us a minimum 24 hour notice, but a refund will not be issued inside this time frame if you need to cancel. Inside of 24 hours there is a strict no cancellation and no rescheduling policy, NO EXCEPTIONS!!! (Traffic, accident, passing of family/friend, sickness, ect) If you have a deposit on file with us and you are marked as a no show or you show up late your card on file will still be charged in full.
Late Policy: If you are late to your appointment we will remove the necessary amount of time from your appointment to match the time your appointment should have finished at.