Pedal Go Kart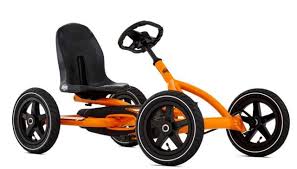 Duration: 60 Minutes (approx.)
Location: Henderson, NV
Product code: PQ7P0T
Enjoy great outdoor fun with the Berg's Buddy Go Kart. Stylish and rugged, this pedal go-kart is perfect for budding adventurers. Your young drivers safety is assured with the featured BFR( Brake, Forward, and Reverse) Hub that allows the driver to pedal forward, cruise, brake by pedaling back slightly and even go in reverse by pedaling backward. The rubber tube tires have a hybrid tread that can take virtually any surface while the sealed wheel bearings in the rims allow the kart to roll smoothly.

www.westinlakelasvegas.com/llvwatersports

*Cancellation and rescheduling policy: We have a 48 hour cancellation policy which means you can cancel your booking and request a full refund anytime outside of 48 hours. You are allowed to change your reservation if you give us a minimum 24 hour notice, but a refund will not be issued inside this time frame if you need to cancel. Inside of 24 hours there is a strict no cancellation and no rescheduling policy, NO EXCEPTIONS!!! (Traffic, accident, passing of family/friend, sickness, ect) If you have a deposit on file with us and you are marked as a no show or you show up late your card on file will still be charged in full.
Late Policy: If you are late to your appointment we will remove the necessary amount of time from your appointment to match the time your appointment should have finished at.