Star Wars The Force Awakens on the water beach ticket for May 25, 2018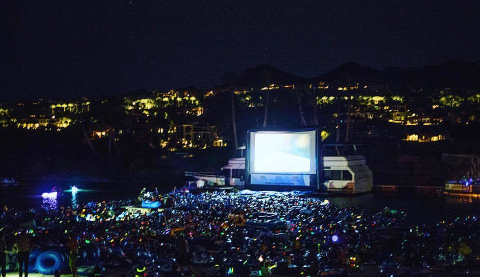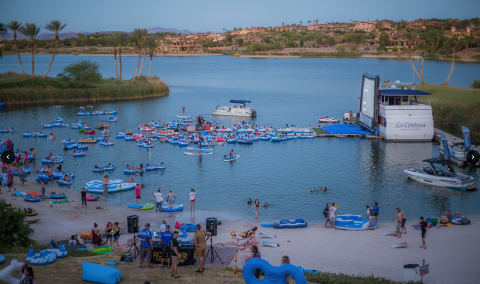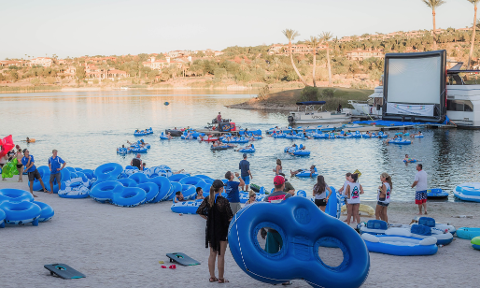 Duration: 150 Minutes (approx.)
Location: Henderson, NV
Last year we made history with showing Jaws On The Water with hosting 1600 people! This year we are looking to break that record with 2000 people for our Star Wars The Force Awakens movie showing. Grab your friends, put on your best Star Wars costume, and get ready to make history at Lake Las Vegas!
The movie will begin right after 8:00 PM, check in will open at 5:00 PM. We will have a live DJ playing music prior to the movie. Drinks and food will be available for purchase. No outside food or beverages will be allowed. Please arrive at least 1 hour prior to movie starting due to the possibility of long lines.

If you are bringing your own tube, it must be a maximum of a 2 person tube.
There will be storage facilities available for $10 for personal belongings. The storage will close 1 hour after the movie, and all left over belongings can be collected the following day at our main store located at 20 Costa di Lago #130, Henderson NV 89011.
Need a discounted hotel at Lake Las Vegas?

Book at the Westin with our link and SAVE 20%

www.westinlakelasvegas.com/llvwatersports

LLVWS Cancellation, Reschedule, Late, Weather Policy
*Cancellation and rescheduling policy: We have a 48 hour cancellation policy which means you can cancel your booking and request a full refund anytime outside of 48 hours. You are allowed to change your reservation if you give us a minimum 24 hour notice, but a refund will not be issued inside this time frame if you need to cancel. Inside of 24 hours there is a strict no cancellation and no rescheduling policy, NO EXCEPTIONS!!! (Traffic, accident, passing of family/friend, sickness, ect). If you can not find the location, this IS NOT an exception to be late. If you have a deposit on file with us and you are marked as a no show or you show up late your card on file will still be charged in full.
All rescheduling requests MUST BE MADE BY EMAIL to info@llvws.com.
Late Policy: If you are late to your appointment we will remove the necessary amount of time from your appointment to match the time your appointment should have finished at.
Weather cancellation: If the weather turns for the worse we will reschedule you to the next available time slot that suits your schedule. NO REFUNDS are given due to poor weather, wind, rain, thunderstorms, or lake closures. At check out you will be asked to agree that you understand that policy. We will always reschedule if there is a weather cancellation. The only circumstance where we will not reschedule you is if you are marked as a no-show to your appointment. If you arrive 15 minutes or more late to your appointment you are marked as a no-show and rescheduling will not be an option for you.