Aqua Park Neon Paddle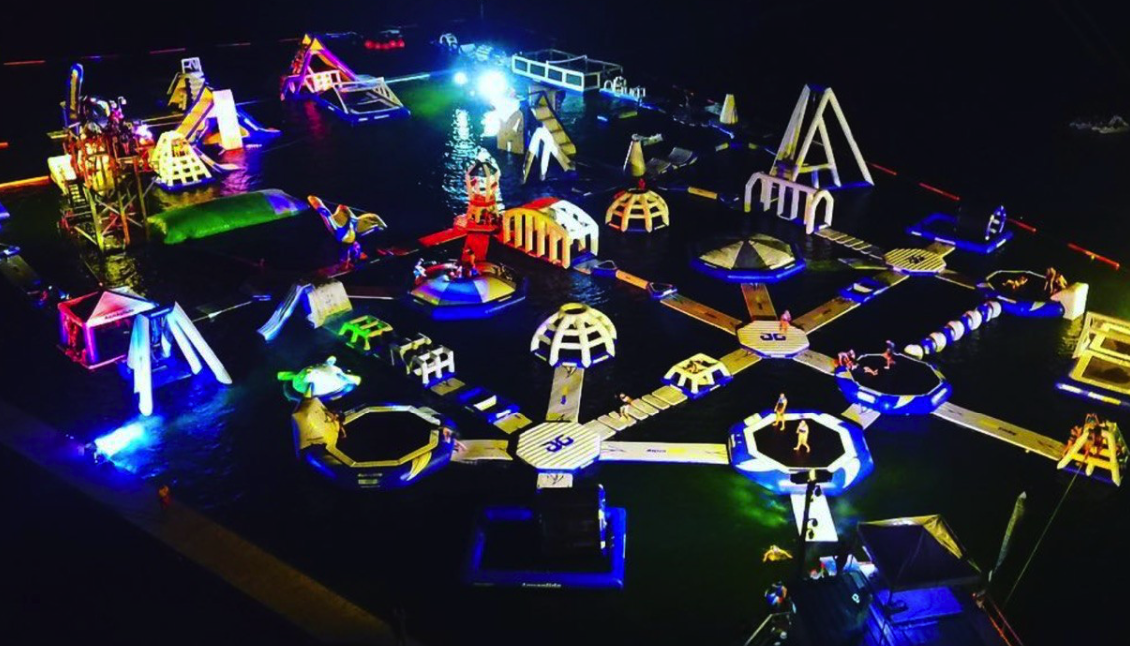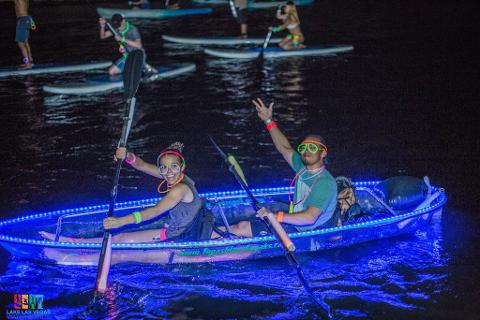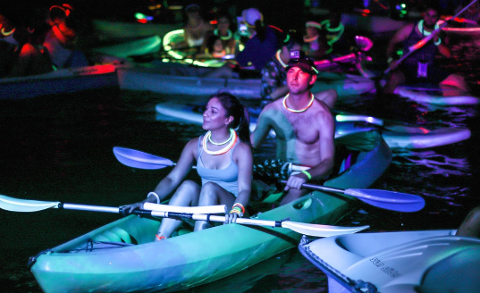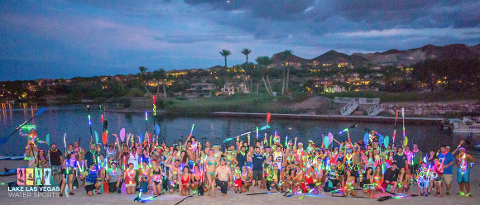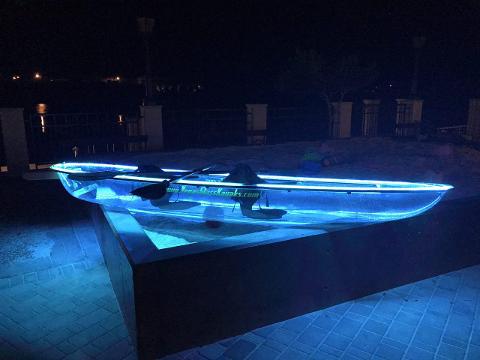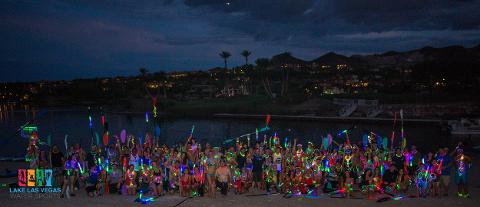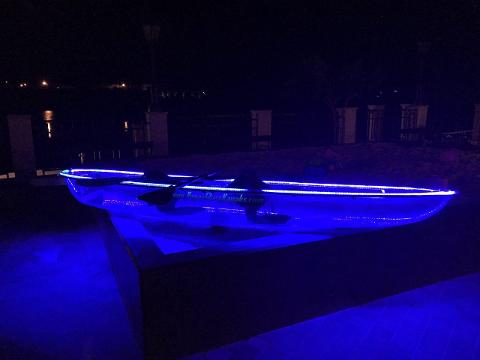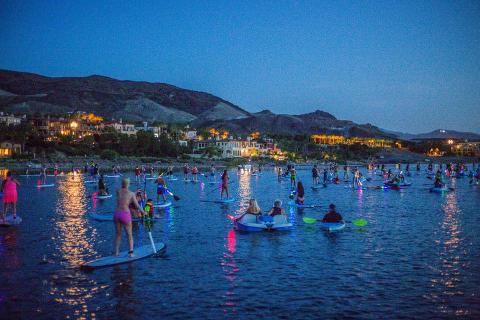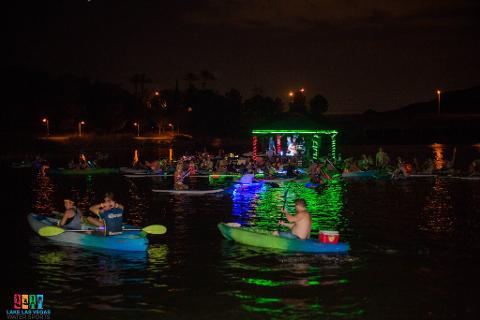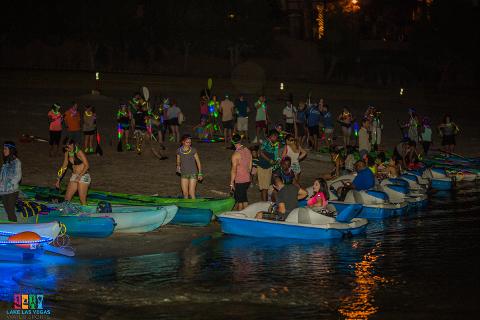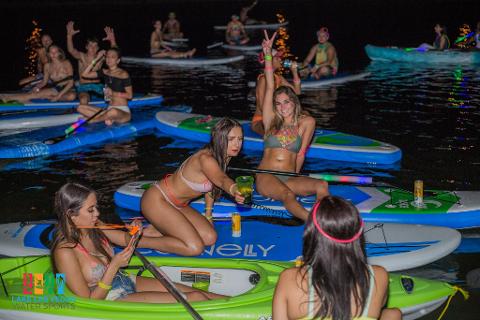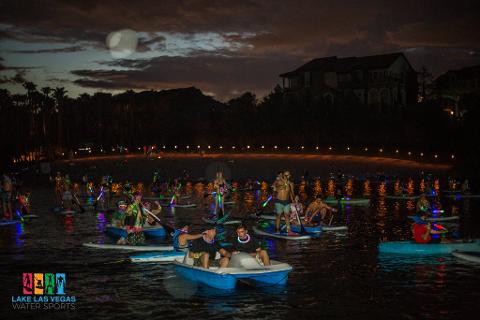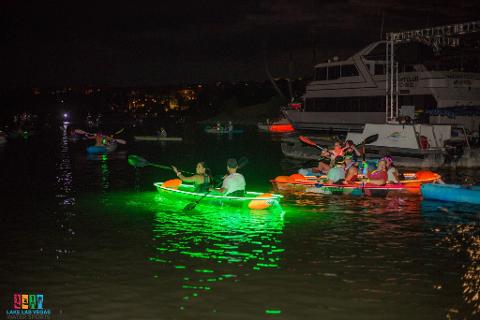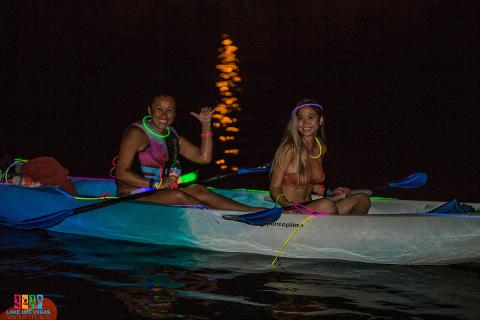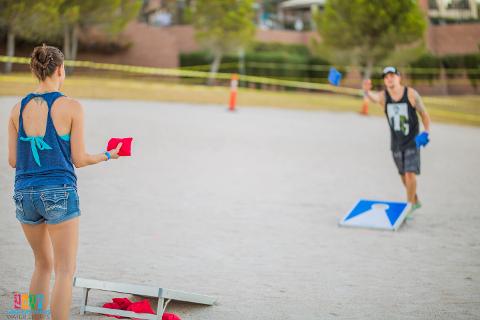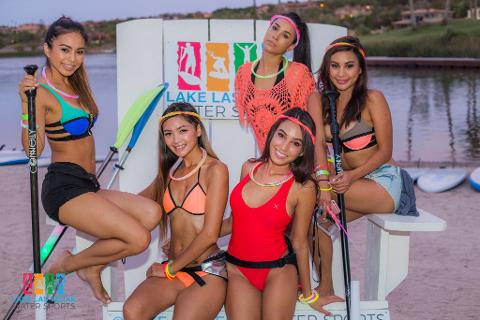 Duration: 3 Hours (approx.)
Location: Henderson, NV
Did someone say 40,000 sq. ft of inflatable fun? Slides, water parks, jungle gyms, and so much more. Toss in some neon lights and glow supplies and that will give you one of the coolest parties in Las Vegas.
But what if we could make it better? Our night begins with a pre-game party on our floating park in the village in which we supply you with neon glow supplies to light up the lake as you run around our aqua park at night. Near the dock, we have food and drink options from third-party vendors along with beach games. Be sure to come early to enjoy the floating park and meet your fellow paddlers.
Our neon party will begin when the sky is dark. Once you hit the water, which is about 30 minutes after sunset, you can run around for up to 2 hours. Feel free to relax and watch our DJ on our floating dock with our own live DJ, LED lights, and flame blowers to light up the sky!
Need a discounted hotel at Lake Las Vegas? Book at the Westin with our link and SAVE 20%
www.westinlakelasvegas.com/llvwatersports
LLVWS Cancellation, Reschedule, Late, Weather Policy
*Cancellation and rescheduling policy: Anything inside 48 hours of reservation time there is a no refund, no change/reschedule policy. Anything outside of 48 hours can be refunded at a 40% surcharge.
Example: If you make a reservation on September 1 for Sept 10 and the amount of order is $100 and you want to cancel Sept 3 & receive a refund you will receive $60 back.
If you would like to reschedule before Sept 8th there is no charge. On Sept 9/10 there is a no change, no refund policy in place. (Traffic, accident, the passing of a family/friend, sickness, etc). If you can not find the location, this IS NOT an exception to be late. If you have a deposit on file with us and you are marked as a no-show or you show up late your card on file will still be charged in full.
All rescheduling requests MUST BE MADE BY EMAIL to info@llvws.com.
Weather cancellation: If the weather turns for the worse we will reschedule you to the next available time slot that suits your schedule. NO REFUNDS are given due to poor weather, wind, rain, thunderstorms, or lake closures. At check out, you will be asked to agree that you understand that policy. We will always reschedule if there is a weather cancellation. The only circumstance where we will not reschedule you is if you are marked as a no-show to your appointment. If you arrive 15 minutes or more late to your appointment you are marked as a no-show and rescheduling will not be an option for you.
**All prices and offerings are subject to change without notice. After party location is also subject to change without notice.**